Not so long ago, in the world of clothing and fashion, there used to be two seasons – summer and winter, and there used to be two editions of fashion weeks – spring and autumn. As in all other spheres of life, the wheel of fashion have also started turning faster. More and more brands have started introducing new collections quite frequently, many times in a year.
Fast Fashion – as it is generally known – has several adverse impacts on the environment and society, like excessive environmental pollution and exploitation of workers who work in the industry.
AT DENIM CLUB, WE STRONGLY BELIEVE THAT EACH AND EVERY WORKER IN THE SUPPLY CHAIN OF FASHION INDUSTRY DESERVES A DECENT LIVING WAGE AND SAFETY AT WORK, AND IT IS THE PRIMARY OBLIGATION OF THE FASHION INDUSTRY TO ENSURE THAT THE ENVIRONMENT IS NOT HARMED IN ITS PURSUIT FOR PROFITS.
Over the last few years, the awareness about the hazards of low-cost fast-fashion has been growing quite rapidly.
More and more MILLENNIALS – across the globe – are now looking for clothing that is eco-friendly and sustainable.
For a significant section of the the millenials it's no longer about being loyal to haute couture brands and various designer houses. In fact, it's more about sustainability and durability, instead of spending a fortune on clothes with a short life span, and focusing on designer logos as status symbols.
According to the State of Fashion 2018 report by BoF & McKinsey, sixty six percent of global millennials are willing to spend more on brands that are sustainable.
Research by LIM College, a school dedicated to the business of fashion in New York indicates that nearly 90 percent believe they will help create more sustainable products by convincing businesses and governments to change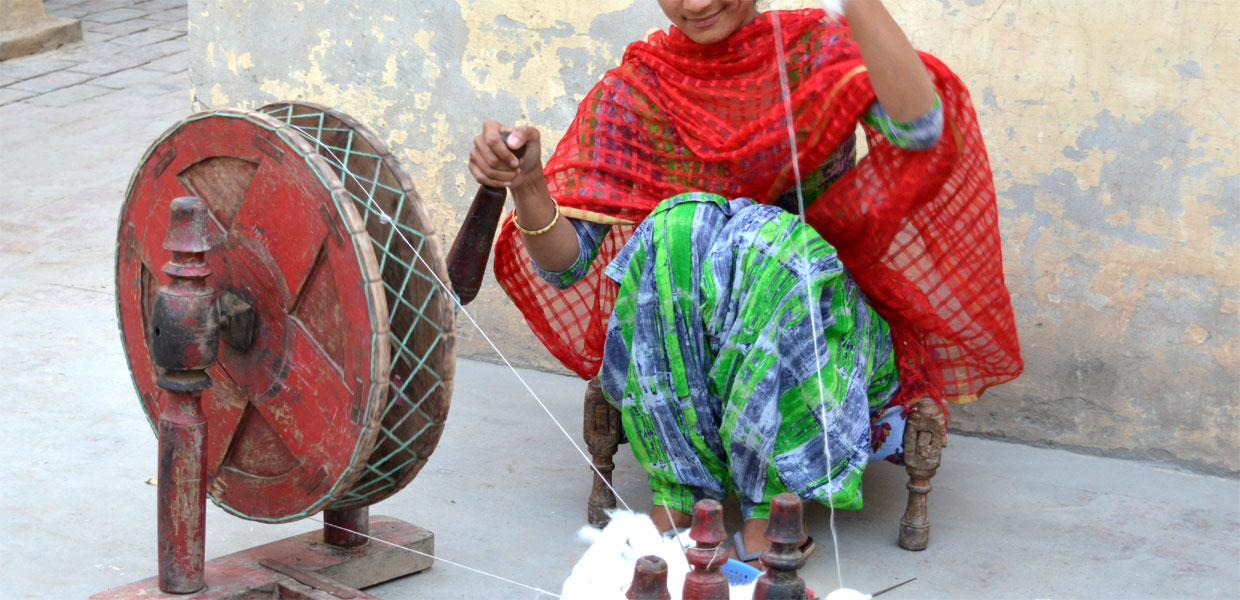 Having sensed the pulse a few years ago, Denim Club India has been spearheading the "slow-fashion" movement in the form of its Handloom Denim initiative, which makes available socially responsible, eco-friendly and sustainable range of products for the youth who is eco-conscious and fashionable.
We have successfully built up a comprehensive value chain for producing hand-made, sustainable high fashion, and at the same time, affordable, collections for the millennials, in such a way that hand-spinners (katins), weavers (bunkars) and other skilled artisans are engaged to do all the work manually by using the traditional age old methods.
This has helped in mitigating the adverse impact of automation & mechanisation which have increased productivity and profitability, but have – at the same time – resulted in more & more artisans losing their livelihood and gradual erosion of the centuries old crafts of hand-spinning, hand-dyeing and hand-weaving.
The materials used and the processes involved are as close to nature and as eco-friendly / organic as is possible. The emphasis is on
Promoting Organic Farming & recycling of waste materials,
Utilizing only manual non-electrical machinery and tools, in order to revive the hand-based crafts and provide respectable and gainful employment to more and more artisans
Engaging artisans – mainly women – in rural locations for most of the work to be done, enabling them to work from home, while taking care of their homes and families as well
Utilizing locally available organic waste / zero-value materials for extraction of organic dyes and to use these dyes for coloring the yarn / fabric
The resultant High Fashion Trendy products, are all hand-made and eco-friendly, and include apparel, home furnishing items, fashion accessories, as per the taste and liking of the millennial youth.
Denim Club offers an exclusive range of hand-woven selvedge denim products, made from 100% cotton, woven on traditional handlooms, without using any electrically operated or automated machinery.